Hello radzen team,
sometimes in the past in noticed that RS changes the names of relationships/references in the same tabel of the same type randomly.
actual example: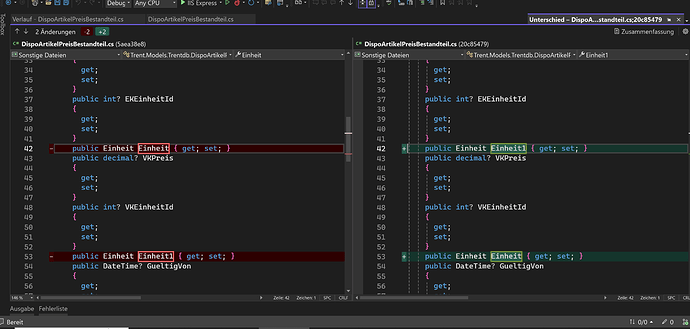 last infer.. only 2 changes. i have done nothing with the DispoArtikelPreisbestandteil table.
This is extremly annoying because all the source codes using now the wrong realtion data and because RS names two or more realtionships of the same type only with a number behind the reference... einheit, einheit1,einheit2 and so on instead of the relation fieldname with identifier before or behind (e.g "RefEkEinheitID" or "EkEinheitIdRef" something else).
Now i must search all sources and change Einheit to Einheit1 and Einheit1 to Einheit. thats bad!
And... this all happens without any errors because the ref names are there as before. But the data is now completly different and this leads to massive errors in the application!
The only thing we can do against this is to observe ALL changes in the model classes every time we infer the schema.
Can i do something against this? can you change the refence name generation (perhaps with an option "new ref names/old ref names" in infer options?
This all is completly unnecessary if RS scaffolding is done with tablewide unique refeference names.
kind regards
Thomas