Hello,
I'm trying to set the Unit for the progress bar. It's based on the number of questions in a survey (e.g. Question 3 of 12), however, in addition to showing the Unit text, it also prefixes the value (3Question 3 of 12). If I don't show the Value or don't include it, then no text shows. Is there a way to only show the Unit information, but not have it, include the value?
The OnChange happens when a user clicks on a rating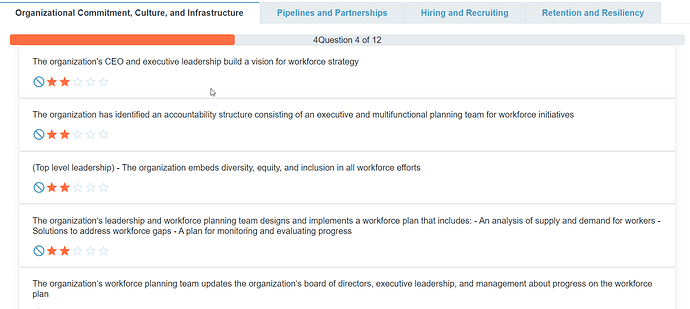 RadzenProgressBar ShowValue="true" Unit="@ProgressCountText" Value="@ProgressCount" Max="@MaxProgress"
void OnChange(int Score, string fldName)
{
ProgressCount += 1;
ProgressCountText = string.Format("Question {0} of {1}", ProgressCount, MaxProgress);
message.Summary = "Saved!";
}