Hello,
I'm using a RadzenListBox with Multiple and Virtualization on and I'm running into some issues with this combination.
I have been able to reproduce the issue in the Demo application by adding an extra card to the ListBoxPage.razor page and by changing the instantiation of the variable multipleValues.
The first issue seems to only happen on the first click in the listbox. On the first click the binding seems to update multipleValues only with values that are currently visible. This can be seen in the gif. In the gif the listbox has selected items at the beginning and at the end of the collection. After scrolling down in the listbox one of the selected items is unselected and you can see in the Multiple selection example that selected items at the top are unselected as well
The second issue is the SelectAll functionality. The SelectAll functionality only selects items that are currently shown, is there any way to customize the SelectAll event? I already have a collection containing all the ids, I only need to be able to apply those values when the SelectAll button is pressed.
Thank you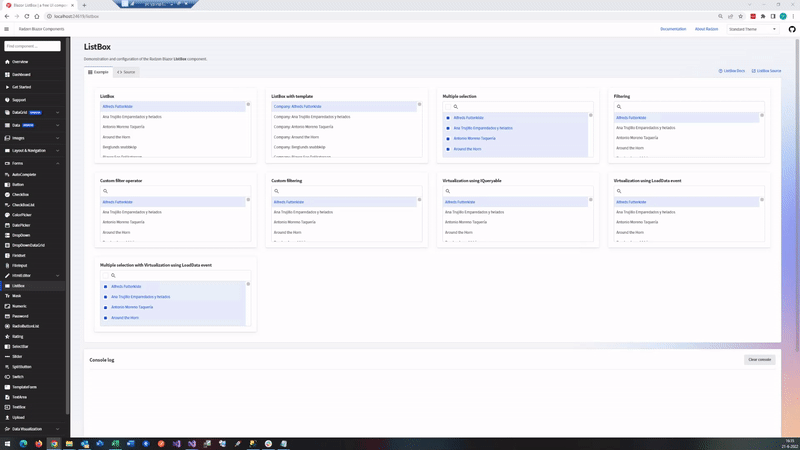 ListBoxPage.razor changes for reproduction
<div class="col-md-6 col-lg-4 col-xl-3 p-3">
  <RadzenCard>
    <h4>Multiple selection with Virtualization using LoadData event</h4>
      <RadzenListBox Multiple="true" AllowVirtualization="true" AllowFiltering="true" Count="@count" LoadData=@LoadDataVirtualization @bind-Value=@multipleValues Data=@customCustomersDataVirtualization TextProperty="CompanyName" ValueProperty="CustomerID"
                               Change=@(args => OnChange(args, "ListBox with custom filtering")) Style="height:200px" Class="w-100" />
  </RadzenCard>
</div>

IEnumerable<string> multipleValues = new string[] { "ALFKI", "ANATR", "ANTON", "AROUT", "BERGS", "MTMTM", "WOLZA", "WILMK" };