I am using Azure AD Security for authenticating to my webpage. This has been working fine, and still does on my production server, so the Azure AD Application Registration should be correct.
However, it no longer works when I try to run the project locally in the Radzen application. It did work the last time I used Radzen, 15th december.
The redirect URIs have not been changed, and looks correct to me.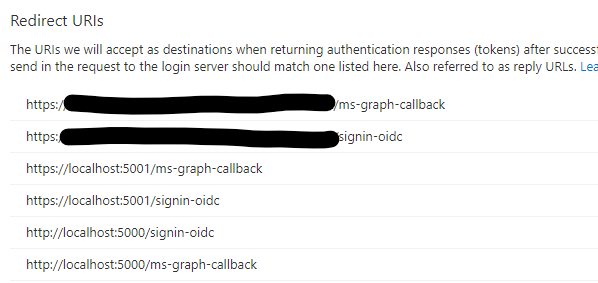 When running the application, all I am met with is a grey screen, thanks to my application trying to fetch the logged-in user. Looking in the Radzen Output, I see this relevant-looking info-message:
dotnet: info: Microsoft.AspNetCore.Authentication.OpenIdConnect.OpenIdConnectHandler[7]
OpenIdConnect was not authenticated. Failure message: Not authenticated
I don't see anything else related to OpenIdConnect.
dotnet: info: Microsoft.AspNetCore.Authorization.DefaultAuthorizationService[2]
Authorization failed. These requirements were not met:
DenyAnonymousAuthorizationRequirement: Requires an authenticated user.
I am running Radzen 2.82.8, and .net 6
I tried upgrading to .net 7, but authentication still did not work. The OpenIdConnect info-message stopped appearing after upgrading, but DenyAnonymousAuthorizationRequirement still kicked in.
I also tried opening the project on a different computer, connected via an unblocked internet connection, but still encounter the samme error.
Any ideas at what might be the issue?