Hi,
I tried to implement Blazor.SidePanel component ; https://github.com/Append-IT/Blazor.Sidepanel in new application which uses RadzenDataGrid.
I don't know that the problem come from Radzen but I want to be sure.
The SidePanel should be opened in right side of my screen. so As you see in picture below is put back left on corner.
<RadzenDataGrid @ref="grid" AllowAlternatingRows="false" AllowFiltering="true" AllowPaging="true" PageSize="10" AllowSorting="true"  EditMode="DataGridEditMode.Single" 
                ExpandMode="DataGridExpandMode.Single" SelectionMode="DataGridSelectionMode.Single" @bind-Value=@selectedDeveloper RowRender="@RowRender"
                Data="@developers" TItem="SuiviBE" RowUpdate="@OnUpdateRow" RowCreate="@OnCreateRow" Sort="@Reset" Page="@Reset" Filter="@Reset" ColumnWidth="200px">
   <Template Context="developers">

 <button @onclick="OpenCreateForm">Open Create Form</button>
        <button @onclick="Close">Close</button>

        <Codeblock Code="@codeblock1" />

        <hr />

</Template>
@code{

private SidepanelComponent createSidepanel;

 private string codeblock1 => "<SidepanelComponent @ref=\"createSidepanel\" Title=\"Create\" SubTitle=\"Starship\">\n    <Create />\n</SidepanelComponent>";

        
    private void OpenCreateForm() { createSidepanel.Open(); }


}

The SidePanel should be opened in right side of my screen. so As you see in picture below is put back left on corner

The good result is :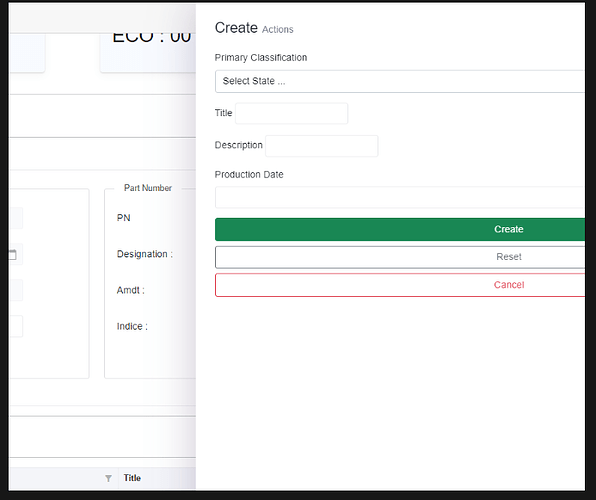 Have you any suggestions how I can fix this problem?
Thanks in advance