hello radzen team,
i have some strange behaviour in numeric fields. I have these numeric fields:


with these database columns: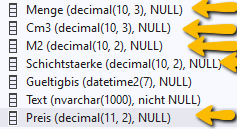 Why do the numeric shows 4, 2 or 8! decimal places? I cant find a schema in this.
Can you explain to me how this happens? it looks very strange to the users and i have no answer for this behaviour...

Thanks for help
Thomas