Hi,
I added a RadzenChart with ColumnSeries in my Blazor Server-Side project. I added a RadzenValueAxis element to specify Min=0, Step = 500, Max=4000, my values all being in a 1800-2900 range.
The graph is included in a RadzenTabsItem. I have 2 tabs in this page.
It works perfectly fine the first time it loads, the Y axis starts at 0 and the maximum is at 4000.
But when I go to another tab, then back to the tab containing the graph, now, the minimum value of the Y axis adjusts automatically at 1500 and the maximum at 3000.
Is there a way to make the Min and Max values stick when switching tabs?
Thank you
                <RadzenChart>
                <RadzenColumnSeries Data="@data" CategoryProperty="QuarterLabel" Title="Budget" LineType="LineType.Dashed" ValueProperty="prop1">
                        <RadzenSeriesDataLabels Visible="false" />
                    </RadzenColumnSeries>
                <RadzenColumnSeries Data="@data" CategoryProperty="QuarterLabel" Title="E1" LineType="LineType.Dashed" ValueProperty="prop2">
                        <RadzenSeriesDataLabels Visible="false" />
                    </RadzenColumnSeries>
                <RadzenColumnOptions Radius="5" Width="20" />
                    <RadzenCategoryAxis Padding="20" />
                <RadzenValueAxis Formatter="@FormatAsKEUR">
                        <RadzenGridLines Visible="true" />
                        <RadzenAxisTitle Text="Budget in kEUR" />
                    **<RadzenValueAxis Min="0" Step="500" Max="6000" />**
                    </RadzenValueAxis>
                </RadzenChart>

Result of the first load (I used a max of 6000 in that test, to make it obvious)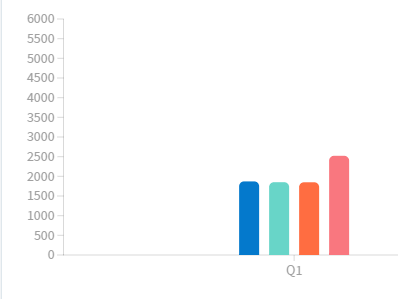 Result of second load, after switching tabs