Hello @Team.
<RadzenDatePicker @bind-Value=@(@context.MondayStart) DateFormat=@("HH:mm") Inline="true" Name="PeriodMondayStartInput" ShowTime="true" ShowTimeOkButton="false" TimeOnly="true" />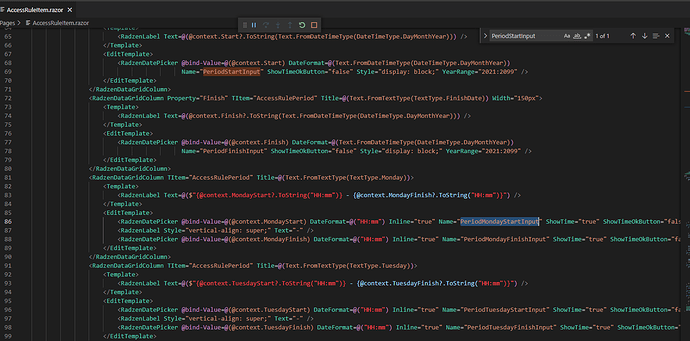 Hi @kim,
Not sure I understand the problem, can provide more details?
I think he meant that this


should have a 'Name="PeriodMondayStartInput"' tag on it as shown here
and here


But it does not and he likes to know why.
Name attribute is used when submitting forms in normal web applications however in Blazor usually this is not the case, still I've added name attribute for the input:
@Gottegubben thanks for the help!
@enchev thanks for adding the attribute. We are using it for unit testing with Selenium.