Hi there! I have a Slider:
<RadzenSlider TValue="double" Style="width: 70%; margin-top: 12px" Min="150.0" Max="500.0" Step="0.5" Value="340.0" Placeholder="Specify ventilation grill height" Change=@(args => OnValueChanged(args, PropertyWeb.Property.ConstraintTypeId)) />

However, I cannot move the slider to it's minimum or it's maximum value. Folowing picture shows initial rendering, sliding to max, and sliding to min.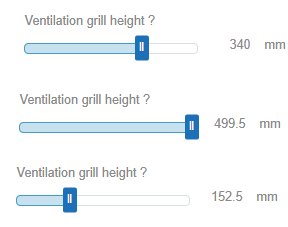 Reachable values differ. sometimes its close (0.5 away), sometimes the difference is up to 6.
Any idea what's going wrong?
Thanks - Martin