Hello,
I am facing issue On Radzen Numeric while insert/editing value and we have use format in the Numeric component.
When we insert/edit the value with out removing the focus from field if we try to submit it wont take the value which need to insert/update it submits which the old value or null value.
We have also called the numeric format for thousand separator but it doesn't call that formater as well.
The screenshot for the code are as below :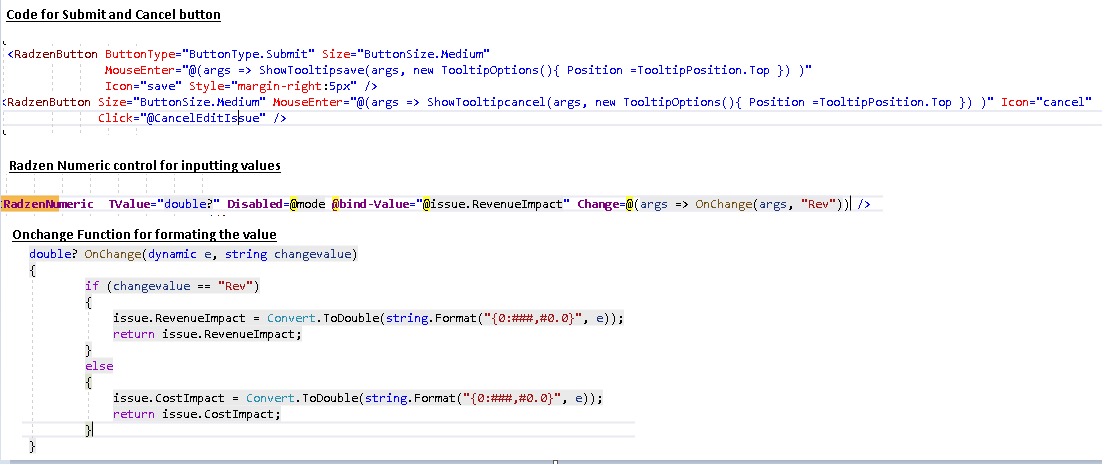 Code :
Submit and Cancel button :
<RadzenButton ButtonType="ButtonType.Submit" Size="ButtonSize.Medium" MouseEnter="@(args => ShowTooltipsave(args) )" Icon="save"
                                         Style="margin-right:5px" />
                           <RadzenButton Size="ButtonSize.Medium" MouseEnter="@(args => ShowTooltipcancel(args) )" Icon="cancel" Click="@CancelEditIssue" />


Numeric control :
<RadzenNumeric  TValue="double?" Disabled=@mode @bind-Value="@issue.RevenueImpact" Change=@(args => OnChange(args, "Rev"))  />

OnchangeEvent :
double? OnChange(dynamic e, string changevalue)
{

     if (changevalue == "Rev")
     {
         issue.RevenueImpact = Convert.ToDouble(string.Format("{0:###,#0.0}", e));
         return issue.RevenueImpact;
     }
     else
     {
         issue.CostImpact = Convert.ToDouble(string.Format("{0:###,#0.0}", e));
         return issue.CostImpact;
     }

}

Kindly please provide any suggestion on Radzen numeric so that this issue can be resolved